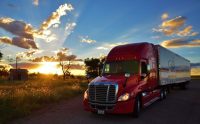 Transportation company is looking for CDL A local driver in River Grove, IL area. This is strictly local position, you will be home every night. We are working Monday to Friday with one Saturday every 4 -5 weeks. Start time is in the morning or afternoon. We specialize in LTL, dry van and reefer freight, dock to dock pick up and delivery. We pay $21 p/h plus $13 for every stop on morning shift and $24 p/h plus $11 for stop in the afternoon … you can expect around 60 hours per week.
We also looking for OTR drivers and for drop and hook from River Grove,IL to Sparks, NV. We are paying $1850 for a round trip. Benefits after 90 days. Medical, dental, vision and vacation. Paid Weekly, Direct Deposit, Newer Equipment, Dry Van or Reefer Trailers, Semi-Annual Safety Bonus, Fuel cards, 24 hours dispatch.
If you have any questions, please call me at 708-338-0303 Ext.252.
Requirements:
Pre-Employment Drug Test
Arrive to work on time
Follow Instructions
Communicate with Dispatch
1 year experience required